About Cynthia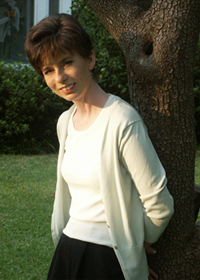 Without a doubt, I have always been a reader, and for most of my life, I've been a writer, too. I remember the first novel I started at the tender age of nine: it was about a guy, a girl, and a horse. The book's life proved mercifully short when my mom found my attempt at back cover copy or the blurb, proclaimed it, "Awwww, how cute!" and proceeded to share it with any relative who would stand still for it.
I scribbled on, though, in secret, never letting many people see my "work." Through high school and college and grown-up responsible jobs such as teaching, ad sales and journalism, I wrote – half-finished manuscripts that became casualties of life getting the best of me.
But in 2004, I made a New Year's Resolution to finish the latest book I'd abandoned in a sticky spot in Chapter Three. I gave up Law & Order and CSI, both terrible addictions, and became addicted instead to rattling off chapters on my laptop. By March of 2005, I was finished with it, and it took its rightful place under my bed – for I had a new idea, and an appointment to pitch to an editor at Georgia Romance Writers, a group I'd only just joined.
That began a long journey of a novel that I wrote and rewrote and watched and prayed over as it made its trek from one editor to another – before finally, on August 4, 2006 an editor called me, and said those glorious words all writers long to hear: "I want to buy your book."
I live in South Georgia with my husband and my daughter Kate, whom we brought home from China in March of 2002. We're claimed by two dogs, two inside cats, and whatever cats show up for morning muster and mess hall.
The south to me is more than my home – it's my roots, and those roots feed me and sustain me. I love its small dusty towns, its big brash cities determined to show off the south's Sunday best. I love the quiet country roads, the old barns that are turning, year-by-year, into the earth that first grew the trees used to build those old barns. I love the song of blue jays and mockingbirds, of cicadas on a hot summer evening, the lightning bugs flickering under the trees, the spring rain drumming down on tin roofs. But most of all, I love its people, who reach out to families in times of joy and sorrow. They are not perfect by any stretch of the imagination … but neither am I. They take me as I am, and I, them. It's what I write about, because, really, it's who I am.